Omni Shoreham Washington DC Entrance photo by kraammoz
There are over 400 hotels in the Washington DC area. In order to find the 32 Best Washington DC Hotels I looked at many professional and traveler reviews of Washington DC Hotels and also weighed in my opinion since I did live in Washington DC for 3 years. First you might want to decide what part of the city you want to be in. Do you want to stay in Georgetown, West End, Adams Morgan, the Mall area, etc. Below I have a map of the major neighborhoods in the District of Columbia. If you want to see the National Mall with all the museums and memorials then you might want to stay in Southwest DC that is within walking distance of all the sites. DC has a great metro subway system that is easy to use. Most tourist places in DC are near Metro Stations so check with your hotel or look on a map to see if the Washington DC hotel you are interested in is near a Metro Station. I always find it is useful to check a hotel's webpage directly before booking to see if they have any specific deals going on. At the bottom on this page I have weblinks to all the Best Washington DC Hotels that I mention in this article. Have a great time in Washington DC. I enjoy visiting Washington DC at least once a year myself.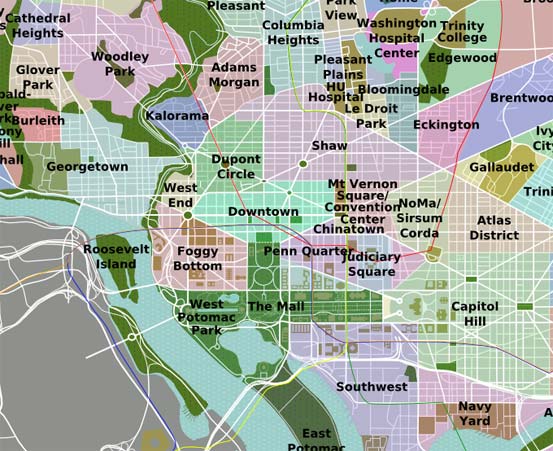 Washington DC Neighborhoods Map photo by Peter Fitzgerald

Best Hotel Bets in Washington DC
Frommers.com's Best Hotel Bets gives you the options of Best Washington DC Hotel Locations, Best Trendy Hotels in Washington, DC, Best Inexpensive Hotels in Washington,DC etc. Frommers also has a great list of 51 top Washington DC Hotels with their 3 star rating guide, price guide and a link to more information on each hotel.

Willard Hotel Washington DC photo by dbking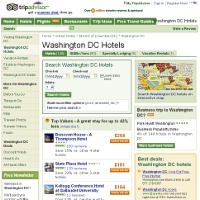 Washington DC Hotels from TripAdvisor
TripAdvisor has reviews for the top 127 hotels in Washington DC. They also have 49 B&B's and Inns and various Vacation Rentals. TripAdvisor also has a list of selected Pet Friendly Hotels in Washington DC.
About.com's Washington DC Hotels Reviews
About.com's main listing on Washington DC hotels is broken down by 11 Capitol Hill Hotels, 33 Downtown DC Hotels, 13 Dupont Circle Hotels, 7 Foggy Bottom Hotels and 9 Georgetown Hotels. After their main listing they have some other interesting Washington DC Hotel listings. The Best Luxury Hotels in Washington DC which is a nice list of 14 luxury hotels to stay at in Washington. About.com's Cheap Hotels and Accommodations in Washington DC's list 10 hotels which allow you to stay in some nice lodging that might fit your budget. Then they also have their Hostels and Bargain Hotels in Washington DC list that will give you some ideas for Great Cheap Hotels in Washington DC. These 9 hotels and hostels allow you to see the sights of the great city of Washington DC and not break your bank in the process.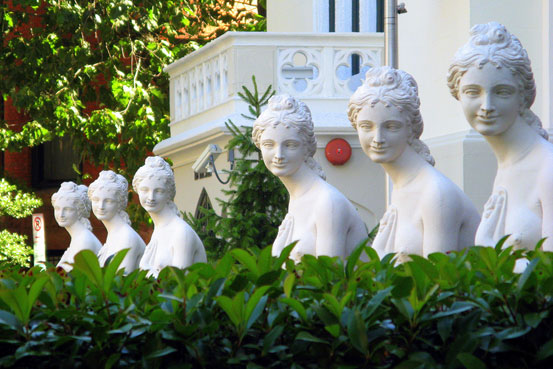 Statues at Hotel Rouge Washington DC photo by debaird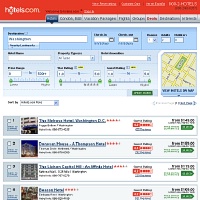 Hotels.com Deals in Washington DC
Looking for some of the best deals on Washington DC hotels look no farther than Hotels.com's Hotel Deals in Washington DC. They list the latest deals on hotels with their guest ratings and star rating system.
Fodors Washington DC Hotel Reviews
Fodors Washington DC Hotel Reviews gives their top hotels by category from expensive to inexpensive then below they give their best bet by price and by Washington DC Neighborhoods.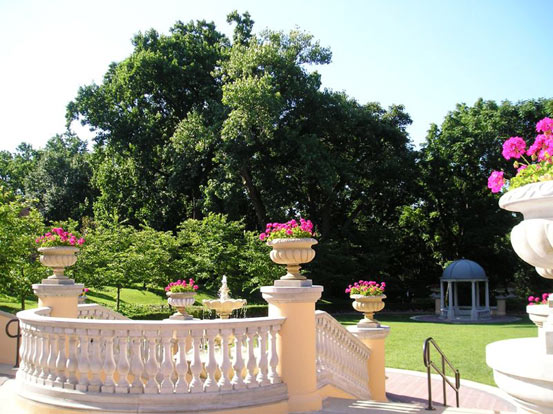 Omni Shoreham Hotel Washington DC photo by kraammoz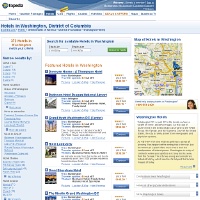 Hotels in Washington DC by Expedia.com
Expedia.com's Hotels in Washington, District of Columbia page gives you some featured hotels with prices and then gives you the option to choose hotel locations, star ratings, Hotel themes like pet friendly, etc.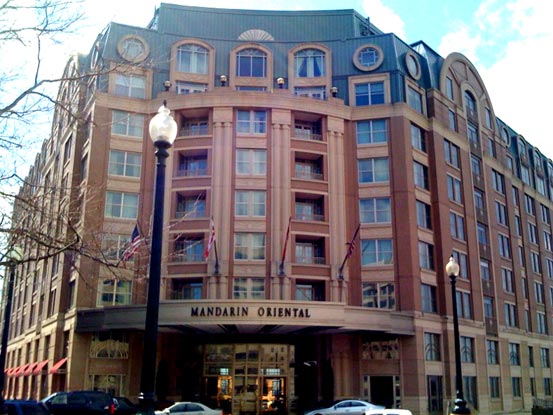 Mandarin Oriental Hotel Washington DC photo by melissaclark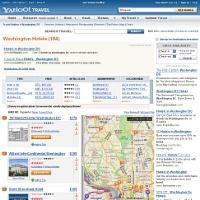 Yahoo Travel Washington DC Hotels
I have saved the best for last. Washington DC Hotels from Yahoo Travel has a great ability to refine your hotel search. Look at the links above the hotel listings. You will see Type, Price, Hotel Class, Neighborhood, and Located Near. These buttons allow you many options to refine your hotel search. I really like the interact map to the right that shows you where each listed hotel is located. One thing that took me some time to figure out was How do I UNDO the Narrowed Search Results. Look carefully below the Type box and you will see "NARROW RESULTS TO:" click on the X to un-narrow the results. After I figured that out I had a blast with Yahoo Travel's narrow hotel search function.
Best Washington DC Hotel links to websites
Finally this is the list of the Best Hotels in Washington DC with the links to each hotels site.